New beauty salon durable functional backwash shampoo units / shampoo bed / shampoo sink
Overview
Deluxe reclining backwash shampoo unit with foot rest features a black chair
back and seat upholstered with high quality commercial black vinyl. Arm rests are
made of stylish, durable and comfortable vinyl, giving a contemporary look to any
salon. The fully adjustable foot rest makes this unit with its recliner appearance
and clean lines very appealing. This unit with a slightly larger bowl secures easily
to a salon floor or wall. The streamlined installation makes this station very easy to
keep clean. The package includes the chrome faucet, black spray hose and drain
assembly.

Shampoo Chair Wash Unit Hot Sale Salon Bed
1)Sturdy construction, round or square chrome base, hydraulic pump, and an adjustable/removable headrest.
2)Very comfortable cushions, solid urethane arms and a T footrest. It has a very nice design and is a modern choice with rounded cushions for comfort of your client and that is important for repeat business.
3)Deeper seat great for taller clients. Footrest rises as the Styling chairs are reclined.
4)Model Number: MJ-E-027
5)Package material:two pcs for each Carton Packing for protective it , Please feel free to drop us an email
6)One parts is made of leather ,FRP bottom sit .which you can chose the color are all good quality and smooth without any distortion or blister.
let us know the product lines of your interest, so that we can offer you our best prices. And you are most welcome to visit us at the time of your convenience for checking our facility or for placing your trial orders on us.

We also produce a wide range of other salon equipments,such as ,Barber chair,Shampoo chair/bed,Styling Mirror,Facial bed,Massage table,Haircutting stool.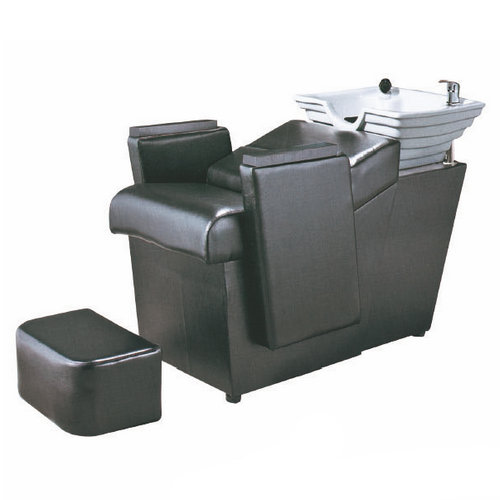 New beauty salon durable functional backwash shampoo units / shampoo bed / shampoo sink